This society was founded in 1991 and has been actively engaged in activities aimed at the health and happiness of children. The environment surrounding children and families has dramatically changed with the times, and the role expected of this society has also become broader and more diverse. In order to promptly respond to the demands of our rapidly changing society and to become a more trusted academic society, we reformed the society from a voluntary organization into the Japanese Society of Child Health Nursing in 2013. In June 2017, our new board was formed. Moving forward, I hope that all board members will unite in striving to further develop this society's activities.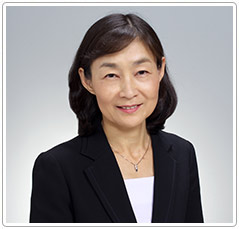 Since its initial founding, this society has been engaged in activities based on the idea of valuing both pediatric nursing practice and education/research. In the future, we would like to continue to be a society that contributes to the development of pediatric nursing through "the promotion of academic and research activities." Now, in 2017, we have built an online publishing system for our society journal and have prepared a system to widely disseminate papers posted in the journal to the public. We also anticipate that additionally moving the peer review system to online will improve the efficiency of the system. We would therefore be delighted if our members were to make use of research and other grants from this society and submit many reports and papers that will greatly contribute to innovative research and practice.

Furthermore, I believe that the role of this society in "improving pediatric nursing practice" is a very important one. It is my sincere hope that educational activities at academic meetings, regional meetings, workshops, and other gatherings, as well as reports on the accomplishments of this society in relation to ethics, childcare support, home care, special needs schools, and other topics related to children published on the society's website will lead to more enhanced nursing for children and families. Expanding these practices and educational and research activities to an international stage is a further mission of this society, and we will engage in activities, such as supporting the participation of our members in international conferences.

We are also striving to "support the creation of an environment that is beneficial to children and families" through cooperating and coordinating with relevant organizations in pursuit of active contribution to society, through expressing opinions as an academic society in a timely manner, through proactively working on issues such as revising medical service fees, through examining disaster preparedness from the perspective of pediatric nursing, and through rapidly responding in times of disaster.

The policies and activities of this society are disseminated to our members and the rest of society via the society's website. Together with all our 2,200+ members and our supporters, we hope to continue exploring activities that are meaningful to children and families, and I therefore cordially ask for your continued support and cooperation.



Japanese Society of Child Health Nursing
Miho Narama (RN, PHN, DNSc)